Commitment to the Community
One of the things that makes PacMed such a unique and wonderful place to work is our commitment to the communities we serve.
PacMed physicians and staff reach out to our local communities.
You'll see us at events in your neighborhood – such as speaking at retirement communities, providing health services at homeless shelters, meeting with high school athletes, raising funds and walking to fight MS and diabetes, and sponsoring triathlons and concert series. See what we're up to on our Community Activity page.
We value connections with our community. Our employees work to build bridges with organizations and meet our neighbors at local events. While sharing PacMed and increasing our visibility, voice and presence, we seek creative ways to break down barriers, become involved and promote healthy lives.
PacMed is also a proud sponsor of the American Diabetes Association and the American Heart Association. Come join us at the walks in October!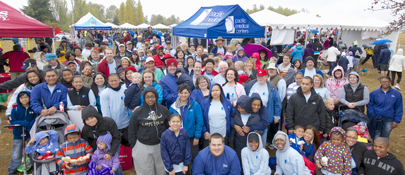 PacMed is committed to serving patients from all walks of life.
We welcome patients ranging from the well insured to the underinsured. Also, PacMed is one of a handful of health care providers in the country—and the only one on the West Coast—that offers the Uniformed Services Family Health Plan (USFHP). This plan serves active duty family members and military retirees and their family members. Read more in Our Report to the Community.
PacMed supports our employees in their volunteer endeavors.
Part of what makes PacMed such a strong organization is our support of our communities and of one another. Since 2009, PacMed has sponsored community grants to worthy organizations with which our team members are involved.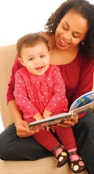 Dr. Sonja Maddox featured in 425 Magazine's "Doctors Making a Difference" issue for her work with Reach Out and Read
Employees have received grants for organizations that...
Promote early literacy and school readiness in pediatric exam rooms.
Take teams of health care professionals to rural Guatemala to share knowledge with local caregivers and to provide health services to residents.
Raise funds for breast cancer by holding snowshoe races and walks.
Take care of sick and needy babies and their families.
Build the inner strength and character of high-risk youth through summer fitness and boxing classes.
PacMed supports universal influenza immunization.
In February 2015, the Centers for Disease Control and Prevention reaffirmed its recommendation of annual flu vaccination for everyone 6 months and older.* To protect the health of the communities we serve and to provide quality patient care, we require influenza vaccination for all of our staff.
PacMed requires all employees, contractors or others working in PacMed facilities to obtain the seasonal influenza immunization each year. Each year, all staff must get an influenza vaccine through PacMed or provide proof of immunization no later than the last day of November.
*Source: http://www.cdc.gov/flu/professionals/vaccination/index.htm