Living and Working in the Puget Sound Region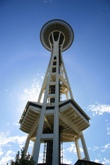 Our region delivers an array of cultural offerings, in-city amenities and outdoor adventures in the nearby mountains, lakes, rivers, and sparkling waters of Puget Sound. It is a place where you'll encounter friendly faces while wandering through Seattle's Pike Place Market or while sipping espresso at one of our numerous, inviting coffeehouses. The Seattle area offers infinite attractions for both the outdoor enthusiast and the urban connoisseur.
In the nearby Olympics and Cascades mountains, you'll discover endless opportunities for camping, hiking, backpacking, bicycling and rock climbing in the summer, and snowshoeing, skiing and snowboarding in the winter. The region's extensive waterways allow for adventurous canoeing, kayaking and boating.
In Seattle, you'll find a wide variety of restaurants, from casual neighborhood cafés to luxurious restaurants overlooking the skyline or Puget Sound. After a delicious meal, you can catch a Broadway production at one of the city's theaters, drop by a local club to hear top-rated, live music or attend a Mariners or Seahawks sporting event. Seattle is filled with unique neighborhoods, parks, museums and shops.
Learn More About Our City, Region and Schools
Our City and Region
Our Schools and Neighborhoods